Over time, the world population is growing and people are also getting engaged in their daily schedules. They are struggling to make their hectic life e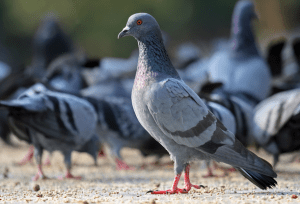 ffortless. Along with this busy lifestyle, all are facing another major problem with Pest Infestation.  Pest Infestation is defined as follows "The Occurrence of one or more pest species in an area or location where their numbers and impact are currently or potentially at intolerable levels."  There are different types of pests like Ants, Flies, Rats, Rodents, Mosquitoes, Cockroaches, Bed Bugs, Mice, Birds, Snakes, Cats, etc. Some of these Pests are harmful to the living of humans at the same time some are not harmful but are annoying for various reasons.
Birds are significant creatures for our environment as well as for human beings. These birds play a major important role in the ecosystem. They help in the seed dispersal for plants. These birds are a beauty to our environment and also everyone love to watch these birds as they are not dangerous for the life of human being. In this universe, there are various species of birds, some with beautiful feathers, beaks, sounds, etc. These birds always love to enjoy the freedom of moving anywhere. Each one of us is fascinated by their attractive colors.
Trees are a habitat for birds, but nowadays in this modern world, we can see all the high-rise buildings, shopping complexes, etc. Human being has made this entire place to their recreational place so that they can enjoy it. Now, these birds do not have a place to rest nor they can lay eggs. They have lost their natural habitat So, these birds will be in search of building their nest and lay eggs at the areas where humans can't reach for e.g. rooftops, side of the windows, drains, rain gutters, the underside of roof corners, HVACs, buildings, open area of factories, warehouses, etc.
Usually, they build their nest with dried droppings, straw, dried leaves, twigs, etc. inside the HVAC duct and it will cause breathing problems. This will be dangerous to our life, especially for children. Regardless, these nests will be highly flammable and there is a chance of getting a fire outbreak. The other major disadvantage of the bird population is that they cause infection to humans from their dropping and also an excess of dropping might cause the slippery surfaces.
Methods/Techniques
Bird Infestation is now becoming an important aspect and at the same time, it's important to use a professionally trained team. The team sho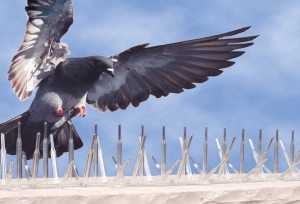 uld be capable of removing birds without harming the bird, other animals, or people. The most common and effective methods are as follows:
Bird Spikes are defined as narrow strips which are a 100% effective method to remove the bird permanently. This spike is mainly attached to the window sills, roofs, sills, edges, street lighting, common areas of bird landing surfaces, chimneys.
These are the effective deterrent for most birds like pigeons, seagulls, crows, etc. Bird spike is also called an anti-roosting spike, pigeon spike, or roost modification. They are the most effective and not harmful method for bird removal.
To stop the bird group from growing massively follow the below tips:
Clean the drain and Gutter
Do not throw leftover food all around which will cause an unhygienic environment
Do not allow to collect water which attracts birds.
Reduce the possibility to make bird nest
These methods or tips need to be followed frequently as they will keep the bird away. As a result, all our property will be long lasting for future and will not damage easily. Also, the environment will be healthy and we all can breathe fresh and odorless air.
If you are concerned about the Bird Infestation & wants to get rid of bird nuisance near your home, business then contact our team. We are approved from municipality and professionally trained. Don't hesitate to make a call on 04-2545445 or email to pestcontrol@bluediamondfm.com