Grease traps a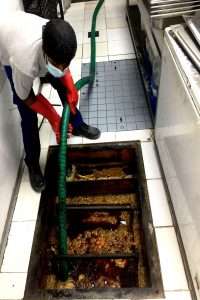 re an essential part of any commercial kitchen or food processing plant. Cleaning of grease trap ensures removal of harmful greases, fats, and oils that are captured. In other words, we prevent it from entering the drainage system where they could cause potential blockages. We carry out our service at times convenient to you helping to achieve minimal disruption to your business.
Blue Diamond General Maintenance offers regular cleaning and maintenance of grease traps. It should be cleaned frequently because if not done it will cost more for installing a new one. Our team provides the best services to clean these greases.
Service Offered for Grease Trap
Our biological dosing treatment which is an eco-friendly, non-chemical maintenance facility for the grease trap.
Provide a green and safe alternative for cleaning.