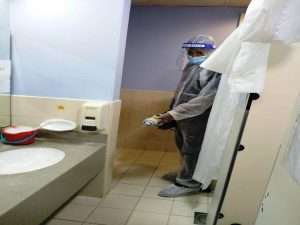 Disinfection and Sterilization of property ensure good health of well-being. Disinfection helps us to kill bacteria or viruses. Similarly, Sterilization helps to remove microorganisms. Our company is the best disinfection company in Dubai. We use Dubai Municipality-approved disinfectants. As a result, we can live in a safe, clean environment to live in. Above all, Blue Diamond General Maintenance provides disinfection & sterilization services to all properties. Therefore, Disinfection removes all pathogenic organisms and Sterilization is the process of killing or removal of all harmful organisms.
Blue Diamond is the best disinfection company in Dubai
Cleaning and disinfection are carried out as per the 'Cleaning & Disinfection in Built Environment' processed by Health and Safety Department, Dubai Municipality. Our team performs the process by steady sweeping using a damp mopping pad, wipe out all frequently touched areas. Besides this, we also use a ULV machine for the areas which are hard to reach during disinfecting process
Services offered
Provide service to both commercial & residential sectors.
Use non-toxic disinfection.
For further enquires contact us :
Dubai- 055 996 3058

Abu Dhabi: 055 471 0498

Sharjah: 055 501 6782

Ras Al Khaimah: 055 995 6737