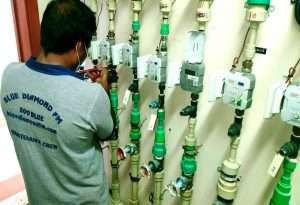 The plumbing system is one of those things in all building whether it may be commercial or residential it need to maintained and manged frequently so that we can get a clean and hygienic environment. Rather than waiting for an emergency situation and having trouble which may cause high, it's a better to budget for plumbing maintenance and aim to avoid the emergency situation altogether.
Blue diamond General Maintenance has a large team of experienced and accredited team of plumbers, equipped with the latest tools and equipment's to diagnose issues and find solutions. We provide services such as Drain waste vent system, Kitchen plumbing system, Bathroom Plumbing System.
Planned Preventive Measure (PPM)
Our team also provide Planned Preventive Measure (PPM) to prevent the failure of equipment before it actually occurs. BLUE DIAMOND provides PPM services that are designed to preserve and enhance equipment reliability by replacing worn components before they actually fail, which includes complete overhauls. Our facility maintenance engineers record equipment deterioration so that they know when to replace or repair worn parts before they cause system failure. It is the most cost-effective way of extending the life cycle of existing machinery.
Our PPM greatly reduces call out costs and labor fees, causes less disruption and is a much better alternative to risking a potentially damaging breakdown of equipment.