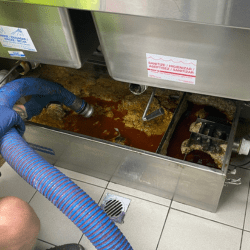 Grease traps are essential components in commercial kitchens and food establishments, often overlooked but playing a crucial role in maintaining the overall functionality and hygiene of the premises. Neglecting grease trap cleaning and maintenance can have serious consequences, including plumbing issues, health hazards, fire risks and even regulatory non-compliance.
Importance of Grease Trap Cleaning & Maintenance
Preventing Drainage Issues: One of the primary functions of a grease trap is to prevent fats, oils, and grease from entering the drainage system. Over time, these can accumulate and solidify, causing blockages that result in slow-draining sinks, foul odours, and even sewage backups. Regular grease trap cleaning ensures the proper removal of these substances, preventing drainage issues and maintaining the smooth flow of wastewater.
Extending the Lifespan of Plumbing: Grease build-up not only affects the drainage system but can also harm your establishment's plumbing infrastructure. Accumulated grease can corrode pipes, leading to leaks, bursts, fire and costly repairs. By adhering to a regular grease trap cleaning and maintenance schedule, you can extend the lifespan of your plumbing, saving significant expenses in the long run.
Promoting Hygiene and Food Safety: Maintaining a clean and sanitary environment is crucial in any food-related establishment. A neglected grease trap can become a breeding ground for bacteria, mold, and other harmful microorganisms. Proper grease trap cleaning and maintenance prevent the spread of bacteria, ensuring a safer environment for staff and customers.
Environmental Protection: Grease traps play a significant role in protecting the environment. The release of untreated wastewater into water bodies pollutes the environment and harming aquatic life. By regularly cleaning and maintaining your grease trap, you contribute to the preservation of the environment and demonstrate your commitment to sustainable practices.
Grease trap can generate flammable and toxic gases over time. If it is not cleaned frequently the grease gets accumulated and has a chance of generating a chemical reaction which will cause fire risk. By regular cleaning, we could overcome these type of fire hazards.
Seeking professional help: Grease Trap cleaning is most important and depends on hygiene. We should understand when it's necessary to engage professional services for thorough grease trap maintenance. As they will use the latest technology and will be having proper safety measures which ensure environmental hygiene.
Conclusion:
Maintaining a healthy and eco-friendly kitchen goes beyond just good cooking practices; it includes proper grease trap maintenance. The maintenance of grease trap is very crucial for preventing drainage issues, protecting your plumbing infrastructure, complying with regulations, promoting hygiene and food safety, and safeguarding the environment and preventing fire risk.
By implementing regular maintenance routines, following best practices, and adopting eco-friendly strategies, you can ensure a clean, efficient, and environmentally conscious kitchen. By implementing a regular cleaning and maintenance schedule, you can ensure the smooth operation of your establishment, avoid costly repairs, and maintain a positive reputation among customers and regulatory authorities.