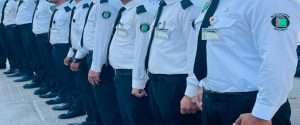 Blue Diamond Security company in Dubai , started in 2001. Our Team is specialized in protecting the property, and assets of Dubai. In addition, we have trained security professionals. We offer services all over Dubai. In other words, we offer security services to commercial & residential areas.
Services :
Access Control
Manned entrance and exit points
Conducting security searches
Loss Control
Knowledgeable and appropriately graded security personnel
Activity control – processes, policies, and procedures
Design and implement effective control documentation
Eliminate opportunities for dishonest practices
Accurate and transparent client reporting
Complex Patrols
Visible and mobile security presence.
To discourage potential criminal activity.
Enforcement of pro-active and preventative Security systems.
Best Security Company in Dubai