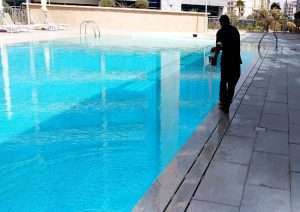 Swimming Pool, Steam & Sauna Cleaning & maintenance
Swimming pool maintenance will keep the pool hygienic, safe, and crystal clear. It should be cleaned regularly so that the pool will be in its best possible condition. Along with the swimming pool maintenance we provide cleaning of the pool, sauna, and steam room. As it should be neat and clean so that everyone can use it.
Blue Diamond General Maintenance offers regular swimming pool maintenance for every variant of the swimming pool. And also, sauna and steam room cleaning service. Our technical team provides the best service. We use the modern and right equipment and professionally trained technicians.
We are one of the leading companies for swimming pool maintenance at affordable prices. Our team is highly professional and has gone through various types of internal training.  
Services Offered for Swimming Pool Maintenance :
Residential & Commercial sectors.
Educational institutions
Indoor & outdoor cleaning
Steam & Sauna cleaning